Looking for a new bathroom vanity? Deciding whether to splurge or save!
Bathroom vanities can be extremely interesting or extremely boring. When designing any bathroom, I always gravitate towards a "freestanding" or "furniture" look. So basically, a bathroom cabinet that doesn't connect to the side walls and looks like a stand alone piece of furniture. In my opinion, it gives the bathroom a custom look and personalizes one of the smaller rooms in your home. So I'm going to share my tips and trick and hopefully help you pick the perfect bathroom vanity for your home, regardless of your budget My goal is to help you decide what you want in a bathroom vanity, splurge vs save?
The Inspiration:
There are so many options to choose from if you are searching for the perfect bathroom vanity, but be prepared to spend a little cash if you want something brand new. They are beautiful but man can they be pricey. The good news is on the high end options you can typically choose from different color marble or granite tops and different faucet finishes.
If money were no object, there is  a good chance I would have gone with one of the vanities below. They are beautiful options and I wanted one in a dark wood/black finish and another in a gray.
Unlike custom cabinetry, you are at the mercy of the sizes that the vanities are made by the manufacturer. So, you may have to size down to the next one if your wall space is an odd dimension.
As a rule of thumb, I like to make sure I have even spacing on both sides of the vanity. Too much or too little space on one side or the other can look like you made a mistake. In the event you are replacing an existing vanity and don't have the option to move plumbing, you can always offset extra space with a plant or shelf of some sort. 
The Splurges: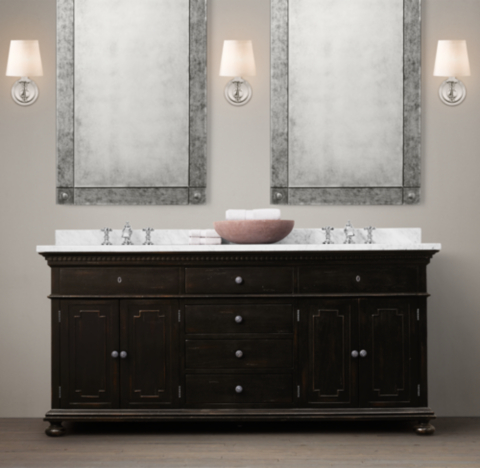 Well, if you've read any of my other posts you could probably guess… I didn't go with the splurge! Yep, I wanted the look above but at a fraction of the price (Let's be honest… I love a design challenge too). I had two bathrooms that I knew I wanted to do something unique with the vanity. So the search began.
Now, realistically, I am not a master carpenter so I needed to find pieces that were in good shape and did not require a lot of modification to be converted into a sink cabinet. Also, because this is not just a furniture piece, you need to think 3 steps ahead. So that means…
If I wanted a dual vanity with two sinks, I needed to find a piece of furniture that didn't consist of all drawers. (I did not want to have to cut all the backs off the drawers for the plumbing pipes to fit)
If I wanted a single sink, I was looking for a piece of furniture with a door in the center (not drawers) so the sink could be centered.
How tall is the piece? Standard height vanities are approximately 30″ high (which is pretty low by today's standards) and raised height vanities are 36″ high (so the same as a kitchen counter height). Why does this matter? …. depending on the type of sink you wish to install you need to keep your overall height in mind.
Do you plan to use an undermount sink ( that is installed under the countertop)? A drop-in sink (mounts into the top)? Or a vessel sink (that sits on top of the counter)?
Do you already have your sink selected? If so, you need to measure that it will fit in the space (width & depth) AND that you have enough room for a faucet.
Do you have room for the connection plumbing underneath (and will it be visible)?
My many years of selling bathroom fixtures & faucets has brought me face to face with clients who had grand plans but no actually planning, so they were forced to choose something that wasn't exactly what they wanted to "make it work."
If you're aware of all of those things you can "treasure hunt" wisely!
My Big SAVES!
Bathroom #1
For my kids shared bath, I had a very tight space. About 60″ overall and a pretty narrow walk way through the space. I knew I wanted dual sinks and an open bottom like the gray splurge vanities above. After several trips to my local consignment, thrift, and ReStores, I finally found something I could work with.
This mission style sideboard was not something that I would have ever picked for my home "as is." But with a little vision I could see how a little paint, a couple sinks, and a marble top could transform it. Plus the recessed brass hardware was so cool. I loved the flush mount look on the drawers & doors.
Because the furniture piece was pretty narrow from front to back and had an open shelf below the cabinetry, I had to be careful with the sink selection. I actually had to go with a wall mounted faucet option because there was not enough room to install one behind the sink.
Note: This cabinet was already 36″ high with the original wooden top. Because I wanted to add a marble top, I had to cut the wooden one off so the vanity would not be too tall. 
I opted for the traditional white carrera marble tops, white sinks, and chrome faucets to compliment the gray vanity and tile floors. The vanity is painted Benjamin Moore's Dolphin AF-715 and I left the hardware the original brass finish.
Here are the sinks and the faucets that we selected:
Bathroom #2
For our guest bathroom I wanted a more classic look. The tile in the bathroom is pretty light gray and the walls are Benjamin Moore's Halo OC-46, so I definitely needed to add some contrast. We only had one sink in this bathroom so my search for a cabinet with a center door instead of drawers let me to this beauty. If the style of the house had been a little more traditional, I probably would not have painted it at all.
I decided to paint this vanity black. I ended up selecting Sherwin Williams Green Black SW 6994. The tiny gold hardware on this piece was so intriguing to me. I didn't do a thing to it and it looks great against the dark paint color.
Unlike the previous furniture piece, this one was only 33″ tall, so to raise it up I just had a hole cut in the wooden top for the sink to sit and put a piece of quartz countertop right on top. Plus the height of the sink put it right at 36″ high overall.
Here are the sink and faucet selections for this bathroom:
Pulling it all together:
After you get your vanity installed you can focus on the accessories. If you're looking for mirror ideas click here and if you're in the market for bathroom accessories click here for some additional tips and tricks for the final touches on your beautiful new bathroom.
The Final Product:
Bathroom #1
Bathroom #2
"Now It's Your Turn!"
Thanks for sticking with me through this bathroom design journey. I hope you've picked up a couple pointers for designing your own space. If you have any great "Save" finds be sure to share in the comments!